Product Discription:
---
DIGITAL RDS STEREO FM TRANSMITTER with MPX for your PC 

What is PCI MAX 3000?
PCI MAX 3000 with MPX for those who wish to use their own stereo/RDS generating software or hardware, is a computer card that will change the way you listen to your MP3's or other audio via PC. It will effectively change your PC into a stereo FM radio station, it is a small digital FM transmitter in a form of a PCI PC card. You will be able to play your audio files (CD, wav, MP3, real audio etc.) from your PC through radio waves directly to your household radio receiver in the next room, in the living room, across your yard, in whole block of flats....or for the entire village/small city. You need just an ordinary radio receiver to receive your signal. The included software (also available in the support section of this website) lets you set the frequency and the output power. You can either service

your living room, garden or anentire community. Get rid of those pesky cables!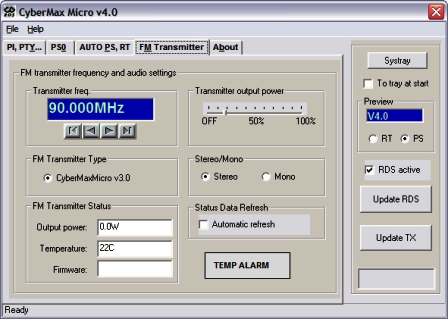 PCI MAX was featured in the Playboy magazine.
What is new since PCI MAX 2007? 
PCIMAX3000+ is a major re-design of PCIMAX3000+
PCIMAX3000+ comes with the new QSonic VCO/PLL system, giving perfect audio response flatness and good bass response
PCIMAX3000+ features built-in PC sound card. This allows direct digital audio playback for low noise high quality transmission.
 It is still possible to drive audio from analog source as well (3.5" phono).
Microphone input
Stronger and much more robust RF output stage for more RF power (3W is possible).
RF output stage protection.
Much better output LPF filter (7-element elliptical).
RDS daughter board from model 2007+ still compatible.
Number of small improvements for better sound, stereo separation and increased reliability.
External power supply no longer required for full output power.
PCIMAX3000+ can be used outside of the PC, simply connect to PC via USB cable. External mains power supply is used in this configuration.
A small magnet-base antenna is now included with the card along with about 2m of coaxial cable
And yes, we have a new driver
Standard small antenna included ( use only on low power! )